Automation, control and orchestration
Magellan SDN Orchestrator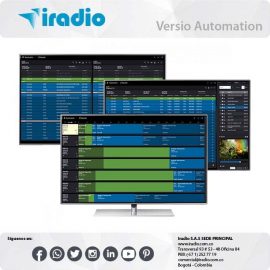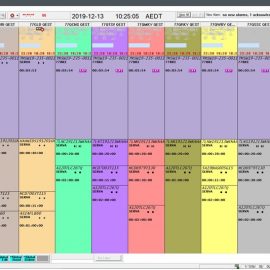 Magellan Network Management System
Configurable Master Control Dashboards
Versio™ Control is a configurable web-based master control solution, enabling users to build customized contextual-driven control and monitoring dashboards that are unique to their operational requirements. It provides a toolkit of functional widgets which combine master control, graphics, automation, and system monitoring capability into a single, consolidated UX framework.
Reduce operational complexity and gain efficiencies by focusing on the data crucial to your workflow – Versio Control puts you in control.
Scalable
• Aggregates data from multiple platforms into a single consolidated view
• Offers multiplatform support – desktop PC, interaction touch screen, or tablet
Flexible
• Configure dashboards in minutes with our library of UX-optimized widgets
• Provides API access for 3rd-party interaction
Intuitive
• Optimized for touch with tap-and-swipe mobile-like gestures
• Build interfaces on the fly with easy-to-use drag and drop configuration
Improve Efficiencies
• Enable follow the sun operations, view, control, and monitor channels anywhere you have network access
• Increase operator-to-channel density for multichannel control and monitoring
• Optimize workflows – scale up and scale down as operational complexity requirements demand
Secure
• Protect your operations through authenticated access
ADC™ Automation Control Widget
Provides simple control of ADC playlists and metadata displays. Features include:
• Tally Now, Next, Later
• System Clock (Channel Time)
• Control Buttons (Take Next, Take Secondary, Play)
Graphics Control Widget
Create a truly graphics-focused panel with greater flexibility over layers and expose different layers to support different workflows. Versio Control's graphics tools also increase the number of macros available, meaning more program-specific graphic control and more flexibility. Easily trigger graphics on preset or program with a single click and edit real-time text tags on the fly, perfect for that last-minute on-air crawl.
Features include:
• Layer Control
• Layer metadata and macro control
• Macro selections and assignment
Switcher Widget
Low-latency video thumbnails deliver a heads-up display for operators for quality assurance, but also near real-time switching feedback for channels that are deployed in high latency environments such as the public cloud. Flexible graph buttons allow operators to configure and control any component in the Versio playout engine.
Features include:
• Video Thumbnail and VU Meters Preview (preview or program)
• Switcher Bus (preset, program, and monitor)
• Graph Button (set and control component values)
• Transition Bus
• Key & Fill Control
Targets Widget
Selects which channel(s) are being controlled – a target selector can be placed within a container to determine the channel a group of widgets controls. Take all allows master control functions such as coordinating take across multiple widgets.
Features include:
• Target Select
• Take All
Utility Widget
Provides the tools to enhance your workspace, offering a range of tools to augment Versio Control's control widgets. By using the tools in the utility widget, users can apply a station logo, or display multiple system clocks showing time zones for an important international sports match.
Features include:
• Browser – embed external data
• Display Image
• System Clock
• Title and Text
Versio™ Automation Widget
Provides control of Versio Automation playlists, take next, and displays useful metadata such as timers and errors.
Features include:
• Clocks
• Tally Now, Next, Later
• Take Next
• Controls (Play, Stop)
Widgets
Widgets are modules that provide a user with specific functionality — they can be as simple as a single button or as complex as a switcher row.
Widget Configuration
Each widget supports its own configuration and customization, including the ability to set button size and color. The level of configuration required depends on the complexity of the widget.
Widget Containers
Link and group widgets in containers with all widgets within the group inheriting the channel selection assigned. Multiple containers can be added per workstation, allowing multiple configurable channel groups per workspace –true multiple channel control.
Canvas Designer
Enter the design edit mode for a blank canvas on which to build a workspace. In this mode, administrators have full access to the widget library. Functionality is split into logical groups such as Automation, Switcher, and Graphics.
Use the simple and intuitive designer to quickly and efficiently create context-driven workspaces to highlight and prioritize data of operational significance, build panels for events such as live sports, deliver high-density multichannel monitoring, or simply show a huge clock to display a countdown to the next missing event.
Quick Select Favorites
The Quick Select Favorites pane allows single-click recall of common workspaces, allowing operators to effortlessly jump between different panels as operational tasks require. Quickly and easily save and recall previously built templates, and store prebuilt workspaces for quick and easy recall, or to assign as a favorite at a moment's notice. All workspaces are centrally stored so once a workspace has been created, any workstation in any location can be granted access.
User Authentication
To protect your on-air environment, the level of access can be limited based on a user's role.
Versio Control is integrated with our user authentication framework. Edit access is restricted to system administrators, while operators can be limited to view and control access.
Access rights in KeyCloak can be integrated with Windows Active Directory, as well as with single sign-on vendors.
Custom Widgets