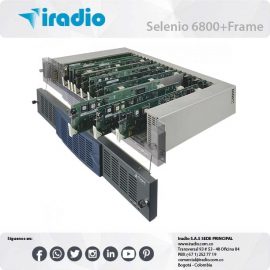 DESCRIPTION
Modular Signal Processing Platform
The pioneering and proven Selenio 6800+™ has been a popular modular signal processing platform with broadcasters around the world for well over a  decade. Available with a range of cost-effective, single-purpose modules spanning the breadth of SDI processing, distribution, video conversion and frame sync to a range of fiber optics solutions, the platform also offers audio processing capabilities.
Whether you're handling audio, video or data, there's an affordable and reliable Selenio 6800+ processing solution designed to meet your specific needs.
Explore the Selenio Configurator Tool.
BENEFITS
• Maximize space and cost efficiencies with high-capacity architecture in a 2RU frame
• Broad product portfolio supports a variety of applications and formats
• Fiber solutions reliably transport high-bandwidth signals over any distance with pristine quality
• Effortless setup and configuration enabled by field-proven control and monitoring options
FEATURES
Selenio 6800+™ Frame
• Direct Ethernet connectivity (10/100Base-T) to the frame, allowing reduced slot space and device control by SNMP third-party, HTTP Web browser and CCS™ applications
• Module communication via an internal high-speed data bus for thumbnail and enhanced alarm monitoring on Q-SEE™-compliant modules
• Capacity to hold up to 20 single-slot modules or equivalent, in any combination of module types
• Support for a wide array of input/output types, including analog video and audio, 3G\HD\SD\ASI-SDI, AES audio (balanced and unbalanced), fiber optics, Ethernet, serial data and RF
H• ot-swappable front and back modules with front access
• Backward-compatibility with all modules that operate on Selenio 6800+ QXF, XF and DM frames
• Light weight for outside broadcast applications
• Full Q-SEE support, including thumbnails, customizable alarms, waveform and vectorscope monitoring, and MPEG-4 streaming, for up to eight external inputs via the QSEE6800+HST module
• Frame video genlock loop, high-performance passive loop-through
• Support for two hot-swappable, redundant power supplies, each independently able to handle the complete frame power load (120 W); AC and DC power supplies can be mixed within one frame
• Integral fan cooling with front-to-back primary airflow designed to support full load at 122° F (50° C) ambient, with no thermal stacking limitations
• A variety of control methods to suit every operational environment: card-edge, CCS Navigator (PC-based control over Ethernet), HTTP Web browser, or third-party control systems via published SNMP MIBs for Selenio 6800+ modules
Selenio Media Convergence Platform (MCP)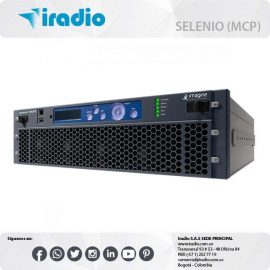 DESCRIPTION
Modular Solution for Video and Audio Processing, Compression and Multiplexing
As the broadcast industry continues to migrate toward IP and its inherent efficiencies, customers with less complex systems or space constraints do not have to make compromises when it comes to on-air and signal transport functionality.
Selenio MCP also delivers an on-ramp/off-ramp solution for conversion of SDI signals to IP streams and IP to SDI signals, allowing continued use of existing infrastructure for a phased, disruption-free transition to IP, while supporting hybrid domains.
BENEFITS
• Combined IP and baseband workflows in a single, flexible platform, providing a high-density, space-saving processing solution
• Intuitive web-based GUI, offering easy management and control
• Integrated, seamless redundancy, supporting signal processing, compression and routing for critical broadcast paths
FEATURES
Selenio MCP3 and Selenio MCP1:
• Video processing, advanced audio processing, compression and multiplexing in a single, flexible platform with intuitive graphical management tools
• Audio and video multiplexing and demultiplexing for compressed streams
• MPEG-2 and H.264 compression standards are supported from SD and HD to 3 Gb/s and mobile
• Inputs/outputs include analog video/audio, SD-SDI, HD-SDI, AES audio (balanced, unbalanced), fiber optics, Ethernet for control and IP video, ASI and serial data
• Standard support for thumbnails, customizable alarms and MPEG-4 streaming
• Integral fan cooling with front-to-back primary airflow; designed to support full load at 40° C ambient with no thermal stacking limitations
• Direct Ethernet connectivity (1000Base-T for control/monitoring, 1000Base-T for data) to the frame with optional redundancy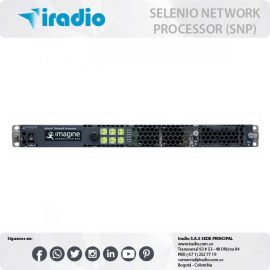 DESCRIPTION
IP Media Processing Platform 
Selenio™ Network Processor (SNP) is the industry's first pure-IP media processing platform, supporting uncompressed
UHD based on SMPTE ST 2110. This high-density, scalable platform enables media companies to seamlessly transition
from SDI to all-IP networks, while adhering to the SMPTE ST 2022-6 and ST 2110 standards.
The standards-based SNP interoperates with Imagine's other UHD- and IP-ready solutions, as well as with commercial
off-the-shelf (COTS) IP switches, providing media companies the flexibility to work with a variety of technology
suppliers for a seamless end-to-end production workflow.
BENEFITS
• Implement a fully scalable, future-ready, standards-based IP production or playout system
• Carry UHD Native (single streams) over ST 2110-20 IP video for simple routing and clean-switching
• Reduce operational complexity with multiple processing functions in one compact frame
• Transition smoothly from a hybrid to full-IP network
• Access agile and flexible processing capabilities for different events and applications
• Incorporate UHD in end-to-end IP production workflows
FEATURES
• ST 2110-20 Video
• ST 2110-30 PCM Audio
• ST 2110-31 AES3 Transparent Transport
• ST 2110-40 Data
• ST 2022-6 SDI over IP
• ST 2022-7 seamless protection switching of IP streams
• ST 2022-8 timing of ST 2022-6 streams in ST 2110 systems
• NMOS IS-04 discovery and registration
• NMOS IS-05 device connection management
• UHD over single ST 2110-20 stream
• UHD over 12G-SDI or Quad-SDI (2SI and SQD)
• HD/3G and UHD clean and quiet switching
• IP to SDI mode
• SDI to IP mode
• IP to IP mode
• Frame synchronization to PTP with adjustable output phasing and delay
• Video proc amp, frame delay, and color correction
• Audio proc amp and delay adjustment
• 4 independent processing blocks for various operations (synchronization, conversion, UHD remap of SQD/2SI)
• HD/3G/UHD up/down/cross conversion (licensed option)
• HD Proxy (as separate 1080i or 1080p ST 2110-20 stream) for UHD signal monitoring (licensed option)
• SDR/HDR (HLG, PQ, S-Log3) conversion (licensed option)
• MADI Audio Processing (via optional SFP) (licensed option)
• Audio embedding and de-embedding between SDI, ST 2022-6, and ST 2110
• Flexible channel support of audio IP streams
• Basic frame rate conversion (add/drop frame) in Conversion personality
• Sharpness control in down conversion
• On screen display (text overlay)
• Preset save/recall
• Black Burst (BB) output generated, synchronized to received PTP timing
• Dual QSFP28 Flexible Ethernet up to 100GbE
• 32 HD-BNC (8 are 12G capable) connectors for SDI I/O
• I/O Expansion via SFP (MADI, 3G coaxial and optical)
• Redundant power supplies in single assembly or hot-swappable independent units
• Front-serviceable main processing board and power supply
APPLICATIONS
SNP is optimized for UHD production via redundant 100-Gigabit data connections capable of delivering eight uncompressed UHD signals in each direction — improving overall efficiency and power-consumption, while preserving picture quality and system latency.
SNP also provides critical synchronization and integration of signals into the production environment, ensuring interoperability with all other standards-compliant equipment.
Along with powerful, IP-enabled video processing, SNP offers all the capabilities required in today's complex production environments, including audio processing, color space adjustments and HD-UHD up-, down- and cross-conversion, as well as High Dynamic Range (HDR) adaptations and conversions required for integrating UHD and HD signals.
Ideal for fast-paced mobile live production, SNP features four integral processing blocks, each of which can be assigned a separate application and reprogrammed on the fly. The multipurpose nature and quick-configuration capabilities of the SNP significantly reduce equipment requirements and enable production companies to respond to the demands of the current job, and then quickly reconfigure to tackle future assignments.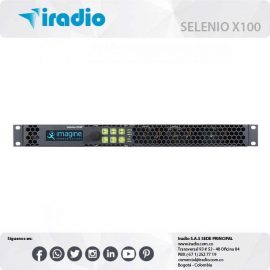 DESCRIPTION
Dual-Channel Frame Synchronizer and Converter
Selenio X100™ offers a wide array of analog and digital real-time baseband video and audio processing capabilities. Standard features in this versatile 1RU include dual-channel frame sync/delay and up/down/cross-conversion, color correction and clipping, dual logo generation/insertion, VANC data and metadata processing, and time code insertion and extraction. For audio functionality, Selenio X100 provides two 16-channel SDI de-embedders and embedders, 16 AES input or output ports, 8-channel input and output analog audio interfaces, and 32-channel internal audio processing.
BENEFITS
• Delivers exceptional quality and dependability, building on the legacy of Imagine's award-winning series of 1RU processors
• Offers 10 Gigabit Ethernet (10 GigE) uncompressed baseband over IP, supporting hybrid and next-gen television and production systems
• Features program delay, ensuring profanity avoidance for live events
• Allows branding of content through animated logo generator/inserter
• Provides built-in web server, enabling easy-to-use control and monitoring
FEATURES
• Intelligent dual-channel frame sync/delay, proc amp, noise reduction, clipping and color correction
• Animated logo generator/inserter (1/9th screen size) with up to 80 seconds for 1080p, 160 seconds for 1080i/720p, 900 seconds for 480i/576i
• Program delay up to 20 seconds for 1080p, 40 seconds for 1080i/720p, 220 seconds for 480i/576i
• Dolby® Digital Plus codecs and RTLL Real Time Loudness Control
• Video thumbnails support for the input and output of the 2 processing channels
• Insertion of closed captioning data from serial port
• Support for continuous numbering of SCTE-104 messages (remap mode) when mixing messages from GPI trigger and embedded SCTE-104 packets
• Support for more SFPs (dual-channel HD-BNC inputs and outputs, combination of HD-BNC and optical input and output, SD/HD to DVI converter, SD/HD to HDMI converter)
• Support for all 1080p/psf production formats (23.98, 24, 25, 29.97, 30)
• True optional dual-channel processing for analog video
• Data Wrangler VANC processing for known and unknown data types
• Rules Engine for custom signal flow management
• Fast frame sync, fast conversion, delay (lock to one input), program delay and time base corrector (TBC) modes
• Advanced 3D adaptive 10-bit motion detection for up/down/cross/aspect ratio conversion
• Basic frame rate conversion built-in and optional single-channel linear frame rate conversion
• Two switchable auto-sensing 3G/HD/SD inputs
• Dual up/down/cross/aspect/basic ratio conversion
• Noise reduction (mosquito and block), sharpness and texture controls
• Two aspect ratio converters with full control over H/V size and position with AFD support
• Built-in video test and audio tone generators
• Redundant power supplies
• Dual logo generator/inserters
  • Static built-in, can be used for a trouble slide
  • Optional 1/9th screen animated logos
• I-Wings side bar insertion when upconverting
• Audio de-embed/embed, sync, delay, gain, invert and delay with 32 channels (eight groups) processing
• PCM and non-PCM (Dolby® Digital Plus, Dolby® Digital, Dolby® E) passthrough
• Options for Dolby® Digital Plus, Dolby® Digital, Dolby® E decode and encode (up to 2 Dolby decoders and encoders)
• Video Interfaces:
  • Auto-sensing for SD-SDI, HD-SDI, 3G-SDI
  • Two SDI inputs (2 HD-BNC, Dual SFP)
  • Four SDI Outputs (4 HD-BNC, Dual SFP)
  • EDH/CRC error monitoring and insertion
  • HDMI output
  • Optional dual channel composite and component analog video
• Audio Interfaces
  • Eight-channel analog audio
  • 2 x 4 groups embedded audio
  • 16 AES (75 ohms) configurable ports
• Data and Metadata
  • Up to 16 services including:
    • CC (CEA608/708), Teletext (OP47) captions
    • ARC data (WSS/VI/AFD)
    • Audio metadata (Dolby)
    • User cue data GPI trigger insertion/extraction using SCTE-104 or BT-1865
    • BrandNet
    • LIDIA
    • Timecode
    • ARIB audio mode
    • Pass up to 10 user DID/SDID when converting video
• Control and Monitoring
  • 100/100BT Ethernet connectivity
  • SNMP-compliant
  • Built-in web control and monitoring
  • Local control panel
  • CCS™-compliant
  • Magellan™ network control panels
  • Magellan CCS™ Navigator
  • Four customizable GPI inputs and outputs