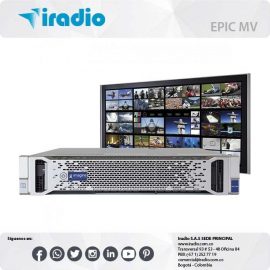 DESCRIPTION
Hybrid IP, UHD-Ready Multiview Monitoring Solution
EPIC™ MV is a highly scalable, SDI/IP multiviewer for playout and monitoring environments, providing a single canvas for mixed signal types and a seamless transition path to an all-IP future. This microservices-based multiviewer is scalable to thousands of PiPs and hundreds of displays, providing a high-quality, low-TCO monitoring solution that optimizes IP infrastructure investment.
EPIC MV is a UHD-ready, multi-image display system with a rich set of supported tally, UMD protocols, and REST-API for the integration of control systems – it is primed for monitoring and monetizing content in high-value production environments.
BENEFITS
• Flexibility – Optimize configurations for any system
• Scalability – Any interconnected unit can view any network signal, on any display
• One Solution – Monitor different signal types at once, 'eyes-on' or by exception
• Future-proof – Provides 4x1080p or dual UHD displays today, from a commercial-off-the-shelf (COTS) platform
• Microservices-based – Provides the elasticity to meet the pace of change and innovation in any facility
FEATURES
Toggle Content48 HD inputs via 4x PCiE cards per 2RU 
• Up to 48x SD/HD/3G over SDI inputs (option)
• Up to 48x SD/HD @ 1.5Gb/s or 24x SD/HD @3Gb/s over ST 2022 inputs (option)
• Up to 48x SD/HD @ 1.5Gb/s or 24x SD/HD @3Gb/s over ST 2110 inputs
• Or any combination of SDI / ST 2022 / ST 2110 by increments of 12 inputs
2 UHD / 4 1080p displays 
• H.264 and MPEG-2 CODECs standard
• High VQ and rich graphics capabilities
• Strong tally/UMD support, advanced content-based alarming
• Rules Engine for MBE behaviors
• PiP copies and sharing between devices
• SMPTE ST 2022-6/7 (max. 48 inputs) via option boards
• Low latency/High VQ
• UHD display support
• Landscape & Portrait displays
• Independent display control
• Rich graphics support & layout toolset
• Clock & Timer support
• Captioning, Subtitles & Teletext
• AFD/WSS decode
• GPIO (option)
• VNC client in a PiP
• MPEG-2/H.264 distribution decode
• MPEG & AAC audio decode
• DolbyE metadata monitoring
• Integration API available
• Magellan panel control
APPLICATIONS
• Ideal as a playout and multichannel monitoring system where data integration, captions & subtitles, and complex alarm scenarios are prevalent
• Landscape and Portrait mode displays for optimal monitoring
• Open, standards-based solution supporting ST 2022-6/7, ST 2110 environments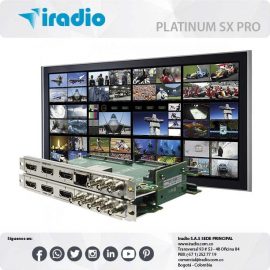 DESCRIPTION
Multi-Display Management System
Platinum™ SX Pro is a scalable and high-density multiviewer designed for Platinum™ routing frames, offering more sources and outputs in fewer rack units.
Combining the best in multi-image processing technology with the game-changing advantages of the Platinum router series, the Platinum SX Pro provides a vast range of user-friendly configuration and control options. It is a powerful, highly reliable, space-saving multi-display management system that is easy to deploy, consumes less power, and reduces overall integration and operating costs.
BENEFITS
• Advanced scaling technology for unsurpassed picture quality
• Unmatched display output options
• Built-in wall control functionality
• Superior redundancy
FEATURES
• Pristine, quality images – ideal for production environments
• Less than one frame of processing delay
• Monitoring of up to 576 sources over 192 displays in a single IP3 frame
• Monitoring of 1152 sources via two interconnected IP3 frames
• Flexible control of displays in groups from 1 – 6 at a time
• Support for 3G/HD/SD/Composite signals
• Simultaneous HDMI and HD-SDI outputs
• SFP fiber output option
• Alarming on audio, video and metadata faults
• Monitoring of embedded, AES, analog or MADI audio
• Monitoring of DolbyE metadata with audio pass-thru
• Embedded and AES audio monitor output
• On-screen clocks and timers
• Support for dynamic UMD and Tally protocols
• Daktronics and OES scoreboard support
• Alpermann + Velte Rubidium Master Timing Series support
• LTC, NTP and VITC timecode
• Dynamic aspect ratio management
• Safe area and aspect ratio markers
• Closed Caption, Teletext Subtitle and OP-47 HD decode and display
• On-screen mouse control
• SNMP and CCSP status and alarming
APPLICATIONS
Maximum functionality, Minimum real estate
The Platinum SX Pro multi-display management system offers versatile, modular solutions capable of monitoring from 16 to 1152 sources in a space-, cost- and power-saving package.
Platinum SX Pro is an output module that operates in any current Platinum MX and IP3 router chassis. Occupying from one to four slots, the module can reside alone in a Platinum frame and function exclusively as a multiviewer, or can be combined with routing cards for ultimate flexibility.
A single Platinum SX Pro card is capable of driving up to three unique displays, with the dual- and quad-slot versions capable of driving up to six. Depending on the size of the frame, up to 64 Platinum SX Pro modules can be placed in one chassis.
With Platinum SX Pro, you can monitor up to 576 baseband input signals and drive up to 192 independent displays via a single IP3 chassis. And if your business outgrows your monitoring capability, two frames can be easily linked together to increase monitoring to 1152 inputs, while simultaneously increasing the output capacity — up to an unprecedented 384 displays in 56RU!
Selenio Network Processor with Production Multiviewer Personality (SNP-MV)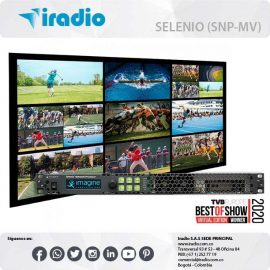 DESCRIPTION
Ultra-Low Latency Multiviewer
Imagine continues to build on its globally deployed IP processing platform, optimizing the award-winning, standards-based Selenio™ Network Processor (SNP) to also deliver a production multiviewer, SNP-MV.
The SNP's multiviewer personality can be mixed and matched with the already available Synchronizer, Remap, and Conversion personalities, transforming the SNP from a single-function product into a flexible production ecosystem platform of essential tools — ready for whatever the next production requires.
BENEFITS
• Delivers enhanced production agility through low-latency operator interaction
• Enables integration of HDR and SDR images to same display — in HDR or SDR
• Provides unmatched flexibility — easily reconfigure SNP for different events, from a multiviewer on some productions to providing additional processors at others
• Integrates with industry-standard Tally/UMD and routing protocols, including NMOS IS-04/05
FEATURES
• Each processor supports up to 9 input signals rendered into one or two UHD displays
• SNP internal processors can be ganged to support up to 36 PiPs on one display
• Extremely low latency from input to display — typically one frame-time
• Native IP inputs and output in SMPTE ST 2110 and/or SMPTE ST 2022-6
• SDI inputs and/or outputs support, including 12G SDI for UHD signals
• Full 10-bit processing pipeline, including HDR-aware color space conversions
APPLICATIONS
Selenio™ Network Processor Multiviewer Application Note
Each SNP production multiviewer (SNP-MV) processing section supports up to nine input signals at 1080p, 1080i, or 720p resolution. A smaller number of UHD input signals is also supported. The input signals can be delivered over IP using SMPTE ST 2110 or SMPTE ST 2022-6, or can be delivered to the MV over SDI.
Each input signal is scaled to the desired size and formatted into one of the two UHD displays — accompanied by tally lamps, borders, UMD text boxes, and other on-screen adornments. The input signal can also be mapped from its original color system (SDR-709, SDR-2020, or HDR) into the target display color system.
SNP-MV displays are always rendered at UHD resolution, and can be rendered in SDR or HDR (HLG, PQ, or Slog3) color systems. A reduced-resolution copy in 1080p or 1080i is also available, and this copy can be mapped to the SDR system even as the main display is in HDR.
Multiple internal processors can be simultaneously operated, enabling a single 1RU SNP to provide up to eight UHD display outputs. The personalities can also be aggregated to make larger displays — four UHD displays with up to 18 signals across each pair, or a single pair of UHD displays with up to 36 PiPs.
SNP-MV includes support for integration with Tally and UMD systems typically found inside a live production environment — these include Imagine's Magellan™ SDN Orchestrator routing control system and the TSL5.0 tally/UMD protocol.