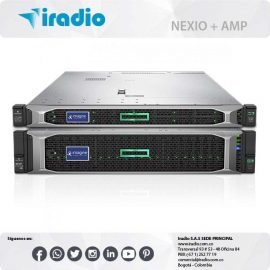 DESCRIPTION
Integrated and Shared Storage Media Server
The Nexio+ AMP advanced media server is an efficient and integrated server platform for managing digital content from ingest to playout. It combines industry-leading Hewlett Packard Enterprise standard server models and Imagine software/hardware bundle kits, enabling software-defined applications while delivering the exceptional reliability, flexibility and format transparency that broadcast operations demand.
BENEFITS
• Exceptional On-Air Reliability – No Single Point of Failure
• Efficient Workflows – Accelerates Time-to-Air
• UHD- and HDR-Ready
• High Scalability – Expand Storage with No System Downtime
• Easy Serviceability and Maintenance – Worry-free Operation
FEATURES
• Flexible system designs: System scales from small integrated servers to 1000+ channel SAN architecture. Pay as you go online expansion of storage capacity and bandwidth
• Packed with value-added features for simple & efficient workflows: Offers proxy generation, on-SAN editing, multichannel audio and more
• Comprehensive range of software-based codecs and formats: Add codecs through software upgrades and licensing
APPLICATIONS
• Nexio® Media Server Applications
Content Management, Synchronization, and Control Applications
Nexio® Media Server Applications deliver a high-performance, easy-to-operate, streamlined solution that meets the demanding requirements of broadcast and professional media environments. Seamlessly add editing integration, advanced content management, automatic file synchronization, automated time delay, and a number of control applications into your server system.
Channel control, configuration, clip management, media transfers, channel monitoring, and system monitoring has never been easier
• Nexio® Playlist™
Nexio® PlayList is an event-sequencing application that controls Nexio AMP servers to facilitate play-to-air operations in transmission, sports and news environments.
It's ideal for commercial insertion applications and small-market programming where full station automation is not required. Nexio PlayList can also be used to inexpensively backup station automation systems. The application enables you to choose clips from the Nexio MediaBase™ asset inventory and arrange them in order for play-to-air.
• Nexio AMP® ChannelView™
Nexio AMP® ChannelView™ integrates software-based multiviewer I/O monitoring directly into the Nexio AMP server, allowing users to easily and cost-effectively monitor the server's input and output ports on an attached VGA monitor.
• Nexio® Delay™
Nexio® Delay™ is a software application for Nexio servers to provide a time delay recording and playout. Nexio Delay allows a frame-accurate time delay with a range of a few seconds up to 24 hours. Users can pre-program the Nexio server to record an inbound feed at a later time and can delay playouts for live event censoring or for time zone-based delayed broadcasts.
• Nexio® Track Router
Nexio Track Router simplifies, and in many instances replaces, downstream audio router needs, and is especially useful when different routing rules must be applied dynamically based on multiple audio profiles present in the media library. For instance, when HD and upconverted SD content are played back-to-back, it is a complex task to identify different audio profiles in the output stream and correctly re-map them with a downstream audio router. Nexio Track Router will be of particular interest to broadcasters:
  • with multi-language content and channels with different language profiles;
  • of syndicated or other distributed content who need to map audio to local audio profile requirements;
  • who are either re-purposing or multi-purposing content for SD and HD channels with different audio profiles;
  • who receive content which requires replacement of or additional caption tracks in local languages.
• Nexio® ClipSync™
Nexio® ClipSync™ is an optional software application that allows Nexio AMP servers to synchronize two playout channels so that they act as one single channel.
This capability allows two clips to be played in sync for key-plus-fill, looping, single-channel playback and other production processes.
When used in conjunction with the Nexio PlayList™ application, Nexio ClipSync allows linked clips to be entered into a playlist as a single clip. The software can be controlled by either the NXOS standard Nexio interface or the Nexio Remote™ monitoring and control software application. It can also be controlled by automation systems via VDCP or Nexio native protocol.
• Nexio® Remote™
Nexio® Remote™ is used to monitor and control channels on one or more Nexio servers over a local area network (LAN). From a single user interface baseband ingest, playout and content management can be controlled for up to six Nexio channels on any of the servers in a single server system. In addition, it supports optional applications including Nexio® Playlist™, ClipSync™ and Delay™.
When a channel from a Nexio server is connected to Nexio Remote, control of that channel is locked to the application. Nexio Remote may also be used to remotely manage content and control several user applications on the Nexio server. Operators can connect and disconnect from different servers in the system, maximizing flexibility and control.
DESCRIPTION
Dynamic Template-Based Graphics and Branding
Versio™ Graphics simplifies the graphics creation process, enabling customers to either create or modify templates using an intuitive interface with full-motion preview and video overlay. With Versio Graphics, you can create markers and simplified macros or create more complex graphics using direct import from Adobe® After Effects®, as well as add dynamic-data driven content and real-time tags, including content triggering. 
BENEFITS
• Expands overall command and control capability for designers
• Allows reuse of creative files without third-party graphics tools, leveraging Adobe After Effects for graphics production
• Enables changes to be made to graphics while live on air (text, position, etc.)
• Delivers important real-time dynamic data updates from the playlist when paired with Versio™ Automation (Countdown Timers, Text, Media, Dynamic Branding, etc.)
• Features web-based tools, allowing designers and operators to modify and create graphics with greater ease and accessibility
FEATURES
• Simplify graphics creation process with integrated UI
• Design basic layouts
• Update RT text tags
• Add Macros including preset "ProgSalvos"
• Define actions and commands
• Preview on-canvas or manually control on-air output
• Manage content
• Adobe After Effects Integration
• Vizrt advanced graphics capabilities
APPLICATIONS
Adobe After Effects integration adds:
• Utilization of industry-standard Adobe AE for creation of rich graphics
• Export .MOV with embedded XMP metadata from AE to Versio
• Real-time text and graphics replacement using AE XMP metadata maintaining size, position, rotation, opacity, and font
• Real-time DVE metadata from AE (size & position) for live/clip sources
• Sophisticated embedded triggers from AE for interactive playback
• Support for advanced expressions in AE for text behaviors and grouping
• Typical use case – End credit squeeze with credit text from external database
• Track-based view of embedded Adobe AE XMP metadata
• Large pool of existing user expertise in After Effects
DESCRIPTION
Ingest Solution for Increased Efficiency and Resource Utilitization
Versio™ Ingest is available as a component of Versio™ modular playout. Versio Ingest provides a highly integrated operational experience from booking, to media prep and QC, to playout, and archive. Versio Ingest can write and/or capture content to external NAS or existing SAN storage.
BENEFITS
• Unmatched, economic scalability from small systems and a few users to large scale distributed systems
• Never miss a story – critical feeds get prioritized and on-air
• Ensures critical feed ingest and redundancy even in degraded-system states
FEATURES

• Utilization of all HTML5 web-based interfaces and single user theme
• On-prem and remote WAN access
• N+M redundancy scheme across ingest appliance pool
• Priority-based bookings allow for scheduling or emergency records even when the system is 100% utilized
• Automatically deconflicts and ripples ingest schedules as necessary to accomplish booking tasks
APPLICATIONS
Versio Ingest service adds:
• 4 channel-per-server density
• Redundant record bookings
• Crash records and open-ended recordings
• Pool of record ports
• Import of traffic data
• Booking with priorities
• Metadata creation and editing
• Playlist creation and control
• Redundant storage targets
• Baseband ingests with encoding
• Uncompressed video over IP input
• Simultaneous MPEG-DASH proxy for preview while recording
• Advanced Audio Track Router (AATR) integration
• Control of Nexio+ AMP servers
Video Recording Profiles:
• Sony XDCAM HD422 – 25 Mbps
• Sony XDCAM HD422 – 50 Mbps
• Sony XDCAM EX – 18 Mbps
• Sony XDCAM EX – 35 Mbps
• Sony XDCAM HD – 18 Mbps
• Sony XDCAM HD – 35 Mbps
• Sony IMX – 30 Mbps
• Sony IMX – 40 Mbps
• Sony IMX – 50 Mbps
• Panasonic AVC-Intra Class 50
• Panasonic AVC-Intra Class 100
• Avid DNxHD 120
• Avid DNxHD 185
• Sony XAVC-Intra Class 50
• Sony XAVC-Intra Class 100
• Sony XAVC-Intra Class 300
• Sony XAVC-Intra Class 480
• Sony XAVC Long-GOP