Automation, control and orchestration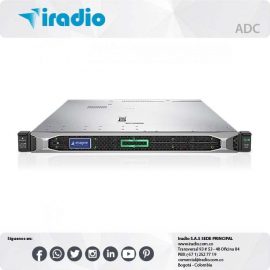 DESCRPTION
Automated Content Management and Distribution
Today, broadcast automation is no longer simply channel playout — it has become a content management and distribution engine. Media operations need to be able to simply and effectively distribute their content, regardless of format.
Imagine Communications ADC™ is an on-premise automation solution for any content management workflow requirement. Field-proven at some of some of the industry's most demanding environments, it is the ideal platform for content control and delivery, incorporating the benefits of asset management with the efficiencies of automated operations.
By offering operational flexibility and modular scalability, ADC is designed to adapt to your evolving business needs, while giving you the tools to explore new revenue concepts.
BENEFITS
• Reliable: A resilient, robust and proven platform, ADC protects your revenue streams with multiple, interlocking redundancy strategies.
• Flexible and Scalable: The ADC system's scalable, modular architecture allows it to economically and efficiently adapt as your needs evolve. Whether it is used to launch more channels, incorporate new media workflows, or meet enhanced redundancy requirements, ADC brings simplicity to scalability.
• Affordable: Economical package pricing provides an affordable system entry point to accommodate any budget or workflow practice. The ADC system's small hardware footprint, quick commissioning and low cost of ownership make it the ideal solution for small- to medium-sized operations.
• Easy to Use: Intuitive, Windows®-based applications provide an enriched user experience, allowing users of all skill levels to quickly become proficient in system operations.
• Interoperable: ADC integrates with more devices and business systems than any other automation product, creating seamless workflow environments.
FEATURES
ADC on-premise playout automation is built on the following components:
• Device Controller
The Device Controller provides real-time control of devices and can manage multiple playlists on multiple networks and serial devices. Individual Device Controllers can manage several channels while simultaneously ingesting other channels. Devices Controllers can be paired for redundant operations, supporting manual or automatic failover.
•File Server
File Server is a standard Microsoft SQL database that stores all metadata needed to support automated workflows. The flexible database structure allows customers to create their own database tables in addition to those provided with the standard schema. Like the Device Controller, File Servers can be paired for redundancy, supporting manual or automatic failover.
•Air Client™
Air Client™ is a highly intuitive and efficient workstation used for managing playlists. Air Client™ can monitor and control multiple playout and ingest channels, across multiple device controllers, from a single UI.
•Media Client
Media Client is an ingest workstation that allows new material to be acquired by automation. Media Client also manages the automation's database and the media that is stored on various devices, such as video disks and archives.
Utilizing this modular architecture, ADC can be simply and economically scaled to grow with the evolving needs of a facility. Regardless if it is launching more channels, incorporating new media workflows or enhanced redundancy, ADC provides simplicity and scalability.
•Right-Sized Redundancy
ADC features multiple, interlocking redundancy strategies so you can utilize the method that best protects your revenue streams. These include:
•List Redundancy
List Redundancy provides advanced protection for your content through the duplication and synchronization of automation schedules. List Redundancy secures your operations through the automatic creation of parallel transmission paths, either of which can assume playout responsibilities, should the need arise.
•Cold Standby
Cold Standby, in conjunction with List Redundancy, provides protection for the ADC Device Controllers and communications to the controlled devices. Cold Standby ensures that operations continue by providing parallel control paths from the device controllers to your devices. Control of devices can be passed from the main device controller to a backup device controller.
•Microsoft® Clustering
The ADC database architecture supports Microsoft® Clustering, allowing it to be used to protect your metadata assets.
APPLICATIONS
ADC is a proven solution for a variety of markets, including:
• Broadcast/Cable Networks
ADC supports the unique and complex workflows associated with network content. It regionalized commercial insertion, advanced media workflows including conversion to mezzanine formats, automated QC, and enhanced redundancy. ADC is the preferred solution for network content providers.
• Commercial Environments
ADC is the ideal platform for dynamic commercial environments. It offers the ability to support complex branding, maximize efficiencies in multichannel operations, support rapidly changing schedules that are associated with live news and sports, and seamlessly manage content from acquisition to distribution.
• Public
ADC playout automation successfully supports workflows at Public Broadcasting Service (PBS) member stations, including satellite control and tight interaction with Traffic/Scheduling systems.
• Centralized Operations
ADC supports multiple centralization strategies, including distributed ingest, centralized and edge playout. ADC has the flexibility and feature set to accommodate any centralized practice.
Magellan SDN Orchestrator
DESCRPTION
Software Control System for Hybrid Baseband/IP Facilities
As media companies embark on the technology transformation of their facilities from baseband to IP, they face investment, operational and workflow challenges. To achieve the promised economies and agility, software-defined networks require sophisticated control. The Magellan™ SDN Orchestrator (SDNO) from Imagine Communications is a proven software control solution deployed in multiple installations worldwide. It delivers full support for SMPTE ST 2110 and ST 2022-6, plus the most comprehensive list of third-party IP endpoints via native APIs and open protocols, making it ideal to orchestrate complete live production and playout operations.
Magellan Live Manager (LM) is an integrated management environment across various Imagine products. Operating hand in hand with Magellan SDNO, LM consists of "LM-Apps" including PathView and AlarmView, which provide high-value user interaction and information.
BENEFITS
• Leverage existing SDI infrastructure investments
• Incorporate IP at your desired pace
• Implement a true COTS solution based on open standards
• Manage hybrid environments in the transition to full IP
FEATURES
• Simplifies management/operations, makes everything 'look like a router'
• Maximizes infrastructure investments, delivering scalability, efficiency of IP-based systems
• Utilizes COTS IP switching, leveraging the latest generation of IP routers
• Offers easiest path from SDI to IP and UHD, leveraging existing infrastructure
• Field-proven router control system, managing SDI and IP matrices simultaneously
• Supports host of Imagine IP end-points, as well as 3rd-party end-points using native and open APIs
• Leverages AMWA NMOS IS-04 and IS-05 to integrate compliant 3rd party devices without special drivers
Features of Magellan Live Manager
• PathView
  • Presents live and dynamic signal-path display for both SDI and IP routing environments managed by SDNO
  • Allows users to simply drag and drop Source(s) or Destination(s) into Pathview canvas, where Pathview will draw the entire path of that signal
  • Provides critical information such as signal format, SDP info, audio levels/breakaway, and device alarms
  • Updates instantly, providing each operator a real-time view of every route they are monitoring
• AlarmView
  • Provides tree-view of all devices being managed by SDNO
  • Presents visual indicators to show IP end-points availability on the network, connections between SDNO controller, and IP end-points, as well as alarm conditions
  • Features alarm panel that provides detail view of all active (color-coded) alarms
APPLICATIONS
• Supports IP/SDI hybrid networks; works within existing workflow – no operational disruptions
• Features a mix of physical and virtual processing functions
• Provides control framework for hybrid SDI/ASI/IP facilities
• Utilizes current routing protocols and control panels
• Controls and monitors the virtual plant, providing operational visibility
• Presents a unified control environment for operations
• Offers compatibility with automation, tally, multiviewer, other devices in the facility
• Manages IP switching and connectivity
• True audio/video/data breakaway capability in the IP domain in a SMPTE ST 2110 environment
• Supports switching of compressed and uncompressed signals per SMPTE ST 2022 standards
• Delivers high availability through 1+1 redundant configuration
• Enables clean switching of uncompressed IP sources
• Facilitates seamless redundancy switching in main and backup network configuration (SMPTE 2022-7)
DESCRPTION
Cloud-optimized Automation Platform
Versio™ Automation is a cloud-optimized, schedule-execution engine designed to drive playout in a pure Versio™ modular playout-based ecosystem, providing a control interface that allows you to coordinate the management of all the components needed for channel origination.
With an intuitive web-based UI, Versio Automation supports anywhere operations with easy-to-navigate clip management, vertical channel workspaces, and horizontal timelines. Being fully integrated with Versio modular playout workflow tools ensures assets get to air fully prepped and QC'd on time, every time. For added peace of mind, Versio Automation delivers a wide range of redundancy offerings, including N+M and multisite playout capabilities.
BENEFITS
• Cloud-ready
   • Enables expansion into new markets or           regions
   • Reduces capex spend
 • Ensures globally accessible playout           operations
  • Scales on demand
• Cost effectively launch new channels, leveraging the agility of the cloud
• Get to air faster and easier with unified UI, database, and metadata
• Experiment with emerging business models, while maintaining primary revenue streams
• Adapt quickly to changing market dynamics
• Provides exceptional agility and flexibility with its service-oriented architecture
• Reduces long-term infrastructure costs with future ready components and flexible design
• Reduces equipment and operational costs by virtualizing master control
FEATURES
• SOA scalable distributed architecture
• Utilizes cloud-native services (e.g., AWS) to increase reliability, resiliency, and scalability
• Control of Versio integrated audio, video, and graphics functionality
• Unified, intuitive web-based user interfaces for faster functional flexibility
• Hybrid IP/SDI content management and playout solution
• Scalable modular solution designed to provide a tailored fit for all installations
• Channel landing page provides simple, high-level overview of all channels and their status
• Built-in asset management and workflow tools
• Easy-to-navigate clip management and vertical channel workspaces, including advanced secondary event control and horizontal timeline
APPLICATIONS
• Hybrid IP / SDI content management and playout solution
• Geo-dispersed playout operations
• Unified centralized channel management
• Playout with digital asset management capabilities
• Linear channel playback
• Monitor by exception
• Web-based applications
• RESTful API layer
• Operational elasticity
• Virtualization
• Redundancy options
• BXF import from traffic
• Gang roll support
• Offline list editing
  • Publish list to one or multiple channels
  • Copy-paste between offline and live list
• Containers
  • Consolidate events into container groups
  • Create manually or from traffic
  • Easily expand/collapse and re-order
  • Assign SCTE triggers and secondary events
• Find and Replace in current list or selected lists
• GPI Triggers
• Export Missing Media log
• Channel Preview window
• System health status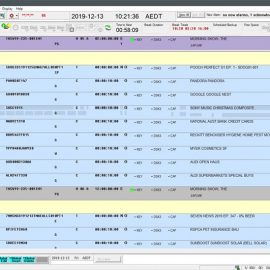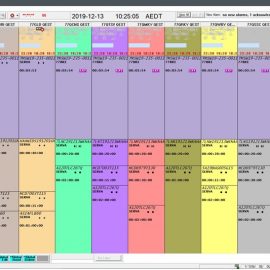 DESCRPTION
Advanced Playout Automation
Imagine Communications' D-Series™ on-premise playout automation system is an exceptionally scalable system that provides world-class device control for linear playout channels and manages the movement of file-based media to multiple delivery platforms. The enterprise-level system delivers reliable, frame-accurate control of high-capacity media distribution environments.
D-Series playout automation commands a single architecture that can easily grow to manage more than 1,000 channels. A powerful, configurable user interface maximizes efficiency, simplifies facility reconfiguration and enables control of large numbers of channels. System integrity and practical security — including user access — are provided across the entire facility through station-defined security policies. System configuration can be managed from any authorized operator workstation.
The dual redundant configuration of D-Series provides extremely high levels of system availability for a large broadcast facility. The system is also extraordinarily flexible.
BENEFITS
• Highly fault-tolerant architecture for maximum reliability
• Growth potential, scaling to over 1,000 channels within a single control architecture
• Frame-accurate control of complex multichannel infrastructures
• Seamless interoperability with traffic and digital asset management applications
• Configurable user interface with a range of control panels
• Modular architecture that allows in-service upgrades and configuration changes
FEATURES
• Scalability: D-Series manages large numbers and a wide variety of channels, playout devices and material management facilities, operating with maximum operator productivity. It can scale to over 1,000 distribution channels within the control architecture.
• Redundant Components: When configured for dual redundancy, remote or local backup systems continuously shadow the main so that they can take over instantly if necessary — without any effect on running schedules.
• Real-Time Operations: D-Series™ Device Controllers run the real-time D-Series software and communicate with video servers, routers, master control and graphics equipment via RS-422 or IP, as required.
• IP Transition: D-Series makes the transition to a networked IP control environment easy, with enhanced IP device control and system communications provided through both serial interface and Ethernet connections.
• Maximum Operator Efficiency: A single operator can configure and monitor any combination of channels, with drag-and-drop content movement, editing across multiple schedules, and drill-down capabilities for quick and easy viewing of primary and secondary events.
• Manual Override: With fully prepared schedules, D‑Series operation can be completely hands-off; but during sports or other live events, your operators can take control and make confident decisions as action unfolds. Multiple alternate schedules for each channel help manage the unpredictability of live events.
• Comprehensive Alarms: Extensive error reporting and summary tools allow an operator to avoid any on-air problems when managing multiple channels.
• Configurable User Categories: Individual viewing, editing and maintenance rights are set up for each class of operator, configured to ensure system security at all times.
APPLICATIONS
D-Series automation delivers a complete set of basic and optional features to support diverse content-delivery business models and ensure competitiveness in the chase for market share. That means you'll benefit from operational efficiencies, system reliability and, most importantly, the scalability to support channel expansion. D-Series offers the following advantages:
• Broadcast Television
D-Series provides central control of local content insertion, with the ability for local program origination to integrate with network feeds. The system supports growth through the efficient management of digital operations, the ability to seamlessly add channels and increased operator productivity.
• Satellite/Cable TV and Radio
Multiplatform media companies face a growing number of delivery challenges — broadband, VOD, IPTV, and mobile, to name a few. The stakes are raised even higher when local content and advertising needs to be inserted into programming. The D-Series solution's flexible delivery capabilities and structural efficiency lay the groundwork on which to build any media delivery operation.
• IP Distribution
With the ability to ingest, manage and play out digital file-based media content in a fully online operation, D-Series offers substantial benefits for telecommunications organizations, Internet service providers and any company that delivers content to wired or wireless devices over IP networks. D-Series simplifies the process of converting content to diverse formats by seamlessly integrating with Imagine Communications digital asset management systems to automate content repurposing and redistribution. The result is enterprise flexibility — a necessary trait for tackling new media revenue opportunities.
• Ingest Operations
Comprehensive ingest capabilities — from single spot operation to large-scale batch ingest — with quality-control features allow D-Series to function as a standalone automation solution or to be integrated with Imagine Communications Versio™ or third-party digital asset management systems. Additional ingest capabilities include:
• Traffic System Interoperability
D-Series performs ingest and material-management operations based on work orders — such as record lists, cache lists, copy lists, delete lists and purge lists — produced by supported traffic systems. For late-arriving or unscheduled ingest orders, manual entry is quick and easy.
• Confidence Checking
If supported by the video server, a file can begin playout while recording is still in progress, which can be used to verify the integrity of encoded material during ingest.
• Quality Safeguards
During ingest, files are recorded with a temporary file name to prevent the material from going to air or being transferred to other locations before its integrity is verified. At the end of recording, you can review the file within the D-Series system to clear it for use. On release, the file name is changed to the proper one; if rejected, the file is deleted to allow the operation to be repeated.
• Point Trimming
During the review process, the start and end of a program can be trimmed. Point trimming is particularly useful when recording live feeds; the original material remains in the server so that it can be retrimmed again, if required. The system database holds the new timing information.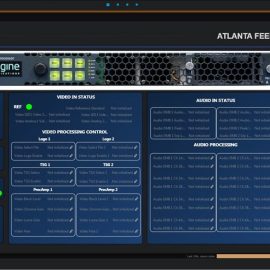 DESCRPTION
Router Control Panels
The Magellan™ family of control panels provides a fast, powerful, and simple way to control your Imagine Communications or third-party routing systems. Available as a series of 10 programmable hardware panels in 1 or 2RU versions, Magellan panels offer intuitive, web-based configuration — enabling the industry's fastest setup for both local and remote operations.
These feature-rich, cost-effective and highly customizable panels — ranging from simple, button-per-source, single-bus panels to multilevel, multibus, relegendable LCD-button panels — are sure to meet both your budget and routing operational requirements.
Designed with an understanding of the physical layout of a typical facility or OB truck, these compact RCPs — less than 2 inches deep — integrate easily into console-mount or any other space-constrained environment, enabling you to rapidly optimize the navigation and control of your routers.
BENEFITS
• Web-based configuration – fast and easy setup
• Easy configuration – changes can be done at the panel or on the web
• Automatic updates – no downloads required
• Parametric control of all routing, MV and processing – seamless integration
• Ultra compact – ideal for any space-constrained environment
• Software versions available for each panel
FEATURES
• Supports button-per-source (BPS), multibus, XY and enhanced grouping modes
• Ability to reconfigure and reassign buttons and alias names both on panel front and at configuration GUI
• Compact and less than 2-in. (51 mm) deep, ideal for console-mount applications
• Supports Ethernet and coaxial connections
 • Ethernet supports both LRC (recommended) and XY protocols
 • Coaxial supports XY only (use these systems without a Platinum™ router or for legacy routers)
• Common control sections
• Unicode support
APPLICATIONS
Magellan RCP LCD+OLED Display
• Available in 1 and 2RU versions
• Completely programmable and relegendable LCD buttons standard
• Template-driven to facilitate easy panel layout changes
• Generation of automatic updates for source, destination, and salvo additions, deletions and name changes
• Ability to create local aliases
• Provides unicode support
• Configurable to operate in Cat/Idx mode or enhanced button-per-source
 Magellan RCP Push-button+OLED Display
• Available in 1 and 2RU versions
• Completely programmable rubber pushbuttons standard
• Template-driven to facilitate easy panel layout changes
• Capable of fast and intuitive operation
• Follow/breakaway support
• Ability to view and switch all levels of the router
• Configurable to operate in Cat/Idx mode, multibus or single-bus mode
Magellan RCP LCD Only
• Available in 1 and 2RU versions
• Completely programmable and relegendable LCD buttons standard
• Ability to create local aliases
• Generation of automatic updates for source, destination, and salvo additions, deletions and name changes
• Ability to switch router via status name, long name and aliases
• Unicode support
• Configurable to operate in Cat/Idx mode or enhanced button-per-source
Magellan RCP Push-button Only
• Available in 1 and 2RU versions
• Completely programmable rubber push buttons standard
• Fast and intuitive operation
• Follow/breakaway support
• Button-per-source configuration with ability to page to more sources and destinations
• Support for button-per-source, single-bus and multibus applications
Magellan Network Management System
DESCRPTION
Complete End-to-End Network Monitoring and Control
The Magellan™ network management system (NMS) is a powerful monitoring and control solution ideal for the IPTV, satellite and broadcast industries.
Designed on an open architecture using industry-standard interfaces such as SNMP, Magellan NMS enables you to effectively manage your entire operational ecosystem — from signal acquisition to signal delivery. With this easily scalable platform, you can confidently expand an existing system to a corporate-wide deployment or grow a regional operation to a global one.
BENEFITS

• Offers a distributed architecture – no central server to manage, no single point of failure and no processing bottleneck
• Delivers a comprehensive network-wide view of your system
• Simplifies monitoring of multi-user, multi-vendor environments
• Features an intuitive user interface, a web-based tool that can be accessed from any location at any time
FEATURES
• Open architecture with industry-standard interfaces
• Scalable from small systems to corporate-wide deployments
• Intuitive UI spanning entire operational environment; available with unique features and capabilities, including the renowned Microsoft Visio®-compliant topological bubble-up and drill-down display
• Provides essential real-time data interaction, trend analysis and professional alarms management
• Open, XML drivers, enabling you to create new drivers or modify existing drivers
• Powerful conversion capability into standard interfaces, including SNMP, for seamless interfacing with third-party north-bound OSS components (e.g., trouble ticket platform)
• Professional security supports domain integration, role-based configuration, resource access management and real-time audit trailing
• Intelligent alarming features hysteresis, absolute and relative thresholds, user-defined color coding and much more
• Alarm management via a powerful Alarm Console for sorting, smart filtering, masking and acknowledging, user customization, exporting, etc.
• Short- and long-term intelligent trending, with powerful UI featuring export, automatic statistical analysis and more
• E-mail notifications triggered by user-defined events
• Self-maintaining and self-healing, including automated back-up
• Real-time access and control on any device from any vendor
APPLICATIONS
• Open, XML-based drivers
Magellan NMS not only provides the technology to interface with any device, but also allows you to create your own drivers, or to modify existing drivers, without prerequisites such as programming experience. This means that anybody can expand the deployment of your Magellan NMS platform, and adding new devices now takes only a matter of days.
• Open, XML-based drivers deliver valuable advantages and give you the freedom to operate any way you want. By the time competing solutions provide you with a price quote to modify a driver on their system, you can have the modification implemented in your Magellan NMS platform.
• Complete, virtual SNMP modeling
Once a device is integrated on the Magellan NMS platform, it is assigned a unique IP address, and a dedicated SNMP agent is automatically hosted on that IP address. Hence, from an IP network perspective, it appears as if the device is now connected directly with the IP network and has its own IP address. This means that for different purposes, you can now interface any of your devices with any SNMP-compliant software application. The SNMP agents support SNMP trap forwarding in case of alarm events; SNMP Gets for retrieval of real-time status information and SNMP Sets for complete remote control.
• Interface with any third-party device
Magellan NMS is the first and only solution available in the industry that can truly interface with any third-party device, whether that device has a standardized or proprietary interface. You can rest assured that any device in your system and any device that you will install can interface with your Magellan NMS platform.
• Unlimited web-based access
Entering the IP address associated with one of your devices into your web browser provides you access to that device via a rich, intuitive web interface, including real-time data, trending, active and historical alarms, documents, reports, services, video thumbnails, etc. With Magellan NMS, you can access any device in your system from any location with a standard PC, and you will get a uniform web interface that provides a complete, interactive experience.
• Distributed architecture
Magellan NMS is the first in the industry to unleash the true power of a distributed solution. A Magellan NMS system is composed of a set of Magellan NMS agents, interconnected with a TCP/IP network — there is no central server to buy, install and maintain, no single point of failure and no processing bottleneck.
DESCRPTION
Configurable Master Control Dashboards
Versio™ Control is a configurable web-based master control solution, enabling users to build customized contextual-driven control and monitoring dashboards that are unique to their operational requirements. It provides a toolkit of functional widgets which combine master control, graphics, automation, and system monitoring capability into a single, consolidated UX framework.
Reduce operational complexity and gain efficiencies by focusing on the data crucial to your workflow – Versio Control puts you in control.
BENEFITS
Scalable
• Aggregates data from multiple platforms into a single consolidated view
• Offers multiplatform support – desktop PC, interaction touch screen, or tablet
Flexible
• Configure dashboards in minutes with our library of UX-optimized widgets
• Provides API access for 3rd-party interaction
Intuitive
• Optimized for touch with tap-and-swipe mobile-like gestures
• Build interfaces on the fly with easy-to-use drag and drop configuration
Improve Efficiencies
• Enable follow the sun operations, view, control, and monitor channels anywhere you have network access
• Increase operator-to-channel density for multichannel control and monitoring
• Optimize workflows – scale up and scale down as operational complexity requirements demand
Secure
• Protect your operations through authenticated access
FEATURES
ADC™ Automation Control Widget
Provides simple control of ADC playlists and metadata displays. Features include:
• Tally Now, Next, Later
• System Clock (Channel Time)
• Control Buttons (Take Next, Take Secondary, Play)
Graphics Control Widget
Create a truly graphics-focused panel with greater flexibility over layers and expose different layers to support different workflows. Versio Control's graphics tools also increase the number of macros available, meaning more program-specific graphic control and more flexibility. Easily trigger graphics on preset or program with a single click and edit real-time text tags on the fly, perfect for that last-minute on-air crawl.
Features include:
• Layer Control
• Layer metadata and macro control
• Macro selections and assignment
Switcher Widget
Low-latency video thumbnails deliver a heads-up display for operators for quality assurance, but also near real-time switching feedback for channels that are deployed in high latency environments such as the public cloud. Flexible graph buttons allow operators to configure and control any component in the Versio playout engine.
Features include:
• Video Thumbnail and VU Meters Preview (preview or program)
• Switcher Bus (preset, program, and monitor)
• Graph Button (set and control component values)
• Transition Bus
• Key & Fill Control
Targets Widget
Selects which channel(s) are being controlled – a target selector can be placed within a container to determine the channel a group of widgets controls. Take all allows master control functions such as coordinating take across multiple widgets.
Features include:
• Target Select
• Take All
Utility Widget
Provides the tools to enhance your workspace, offering a range of tools to augment Versio Control's control widgets. By using the tools in the utility widget, users can apply a station logo, or display multiple system clocks showing time zones for an important international sports match.
Features include:
• Browser – embed external data
• Display Image
• System Clock
• Title and Text
Versio™ Automation Widget
Provides control of Versio Automation playlists, take next, and displays useful metadata such as timers and errors.
Features include:
• Clocks
• Tally Now, Next, Later
• Take Next
• Controls (Play, Stop)
Widgets
Widgets are modules that provide a user with specific functionality — they can be as simple as a single button or as complex as a switcher row.
Widget Configuration
Each widget supports its own configuration and customization, including the ability to set button size and color. The level of configuration required depends on the complexity of the widget.
Widget Containers
Link and group widgets in containers with all widgets within the group inheriting the channel selection assigned. Multiple containers can be added per workstation, allowing multiple configurable channel groups per workspace –true multiple channel control.
Canvas Designer
Enter the design edit mode for a blank canvas on which to build a workspace. In this mode, administrators have full access to the widget library. Functionality is split into logical groups such as Automation, Switcher, and Graphics.
Use the simple and intuitive designer to quickly and efficiently create context-driven workspaces to highlight and prioritize data of operational significance, build panels for events such as live sports, deliver high-density multichannel monitoring, or simply show a huge clock to display a countdown to the next missing event.
Quick Select Favorites
The Quick Select Favorites pane allows single-click recall of common workspaces, allowing operators to effortlessly jump between different panels as operational tasks require. Quickly and easily save and recall previously built templates, and store prebuilt workspaces for quick and easy recall, or to assign as a favorite at a moment's notice. All workspaces are centrally stored so once a workspace has been created, any workstation in any location can be granted access.
User Authentication
To protect your on-air environment, the level of access can be limited based on a user's role.
Versio Control is integrated with our user authentication framework. Edit access is restricted to system administrators, while operators can be limited to view and control access.
Access rights in KeyCloak can be integrated with Windows Active Directory, as well as with single sign-on vendors.
Custom Widgets
DESCRPTION
Master Control Solution for Simplified, Streamlined Workflows
Versio™ Master Control Surface (MCS) is a component of the Versio™ modular playout suite. Versio™ MCS provides an intuitive, touchscreen-based master control surface designed for either fully manual operation or combined with automation. It enables full control of switching, graphics and automation.
Versio™ MCS offers ultimate deployment flexibility – on premise, remote or in a cloud environment.
In addition to an advanced set of master control solutions that allow for simplified and streamlined workflows from creation to air, Versio™ MCS provides solutions for single-channel or multiple-channel control.
BENEFITS
• Intuitive user-friendly web interfaces
• Single unified control surface for graphics, automation and master control
• 100% software-based
• Advanced automation integration, simplifies operations and reduces operational costs
• Consistent user experience across channel origination technology
FEATURES
• Supports button-per-source (BPS), multibus, XY and enhanced grouping modes
• Ability to reconfigure and reassign buttons and alias names both on panel front and at configuration GUI
• Compact and less than 2-in. (51 mm) deep, ideal for console-mount applications
• Supports Ethernet and coaxial connections
 • Ethernet supports both LRC (recommended) and XY protocols
 • Coaxial supports XY only (use these systems without a Platinum™ router or for legacy routers)
• Common control sections
• Unicode support
APPLICATIONS
Versio MCS Live Surface gives operators total control of live sports. The powerful and intuitive panel allows breaks to be inserted, removed and re-ordered across multiple channels. Perfect for use in studios and outside broadcast facilities utilizing its remote-control capabilities.
• Abstracts the traditional linear list, into easily moveable blocks.
• Breaks can be inserted and reordered across multiple channels from a single intuitive UI.
• Search, browse, and control graphics element, perfect for live sports environments.
• Jump to next and previous live.
• Multiple copy cut or pastes actions can be achieved by single button press.